November 24th, 2010 by Ed Grabianowski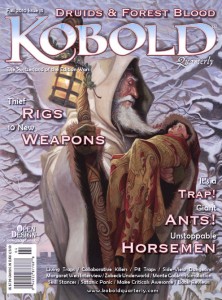 Kobold Quarterly has been around for a couple of years now, and has really settled into its role as a fine D&D magazine in the mold of those other fine D&D magazines that were so abruptly taken from us. The fall issue is a good one, and it's also a typical one.
You know what I used to love? Getting a monthly gaming magazine delivered to my house. I loved Dragon Magazine (and Dungeon, to a lesser extent), and Paizo was really hitting their stride with it when Wizards yanked the license. Now, the current online-only incarnations of Dragon and Dungeon are great and all…actually, screw that. I'm assuming they're great and all because I never read them, despite paying for a DDI subscription month after month. Maybe part of it is my job, which involves a lot of sitting at my computer reading things, but the last thing I want to do when I finally have time to relax is to sit in front of my damn computer and read things, no matter how much I enjoy the subject matter. So I succumb to a bit of nerd rage whenever I think about the fact that they took those magazines away from me and also ended one of RPG-dom's finest traditions.
Enter Kobold Quarterly, the result of a lot of blood, sweat and tears on the part of of editor Wolfgang Baur. Baur is a Dragon alumnus, so it's no surprise that KQ melds some of the best elements from that magazine's halcyon days with some new touches. It's available as a pdf, but you can also subscribe and receive physical, print copies. Even if it isn't a monthly (obviously), it fills a void in many gamers' hearts.
The fall issue offers a nice example of what you can expect to find in your typical KQ issue. First, there's a fantastic piece of winter-themed art by William O'Connor on the cover. Inside, you'll find a mixture of OGL/Pathfinder material and GSL/4E stuff. There's plenty of system-neutral content that can be adapted in either direction. For example, the ecology article in this issue is about giant ants, and while the stat blocks are presented in Pathfinder form, all of the info about giant ant behavior could be used in any RPG. Them!
While there isn't quite as much art as an old Dragon issue might feature, the art in KQ is universally excellent. Gaming-themed comic strips give the mag a familiar feeling, along with a column by Monte Cook. A short section of fantasy book reviews will help fill out your winter reading list (I'll be busy with Lord of the Rings for a few months, myself), and there's a great interview with Margaret Weis.
As for gaming articles, I particularly liked David Adams' expansion of 4E mounted combat, which provides a ton of new feats, weapons, mounts and other vital crunch that will make a cavalry-based adventuring party really shine. Anthony Eichenlaub offers up utility skill feats that add a lot more depth and role-playing potential to skill challenges and non-combat situations. I also really enjoyed John Flemming's "Rig This!", which describes portable traps that rogues can create and deploy to the detriment of their enemies.
There's a lot more than that in the magazine's 70-something pages. It may sound odd, but I really enjoyed seeing all the advertisements. It's nice to see various gaming products on display in one place. You can check out Kobold Quarterly at the official website. A gaming magazine in your mail again, how could you go wrong with that?