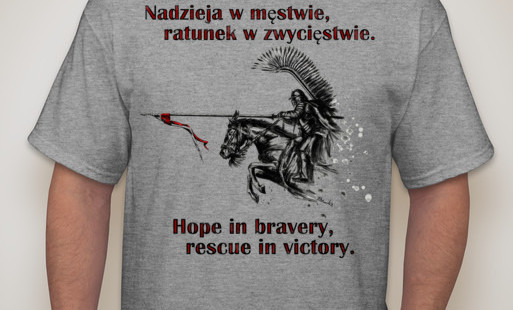 Help My Dad Fight Cancer, Get an Awesome T-Shirt
In September of 2015, my father found a lump on the side of his neck. A few weeks later, it was confirmed as a cancerous tumor. He's ready to take on whatever treatments are necessary (and believe me, none of them are pleasant) because he wants to be with his family for a lot more years. We've got all kinds of adventures planned as soon as this damn cancer is beat.
The good news is, the overall prognosis looks good. After a few months of treatment we can look forward to the five-year mark, at which point he'll be considered cancer-free. The doc says there's a high percentage chance that that's what will happen.
The bad news is, wow cancer is expensive. I can't even put a single number on it because there are so many unforeseen expenses and unanticipated changes in the treatment. My parents have insurance, but even with that, they face hundreds of dollars in co-pays and plenty of out-of-pocket expenses before they meet their insurance deductible. Plus, they're both going to miss days and weeks of work because of appointments and the effects of the treatment. My dad's already had two surgeries and a delay in treatment, and the missed work and bills are already piling up. The goal amount I set for this campaign will almost certainly not cover all the expenses, but it will put a dent in the stack of bills. Plus, knowing lots of friends and caring strangers are wearing a kick-ass t-shirt to help him out will really boost my dad's morale.
There's a lot about this situation we can't control, but one thing we can do is try and make the money problems less of a burden. That's why we're running this campaign to sell an awesome t-shirt with a charging Polish hussar on it. This is an exclusive design by a very talented artist (more on him in a moment), so you'll get a unique shirt while simultaneously helping us out. And every bit of support is going to mean so much to my family.
So who is this guy we're helping out? My dad's not really big on extra attention, but he's a Vietnam veteran who served in both the 11th Cavalry and 8th Infantry, mostly repairing tanks. He loves auto racing and both military and civil aviation, watches horror movies with me, and plays old-school historical war games with my brother and I. He's a huge fan of military history and first told me stories of the Polish hussars cavalry a few years ago. The hussars were highly skilled cavalry units that played major roles in several conflicts in the 16th century. Considering how cool they were and our family's Polish heritage, we thought an image showing one would be the perfect symbol of his determination to battle cancer.
More importantly, my dad is a guy who's always helped out his friends. He's been a mechanic his whole life, and as long as I can remember he'd come home from a day working at a car dealership only to work on a friend's car in the driveway, always just for the cost of the parts. He still does it to this day. That taught me that even if you don't have a lot of money, you can always find a way to help people out.
Finally, I want to give credit to artist Michał Matuszak, who gave us the license to use his wonderful hussars art for this t-shirt (and suggested our slogan, which he even properly translated for us!). He's a great artist, so check out his ArtStation page. If you're a company that hires artists, maybe you could repay him some of that generosity by commissioning or licensing some of his work.